Zion Williamson recaps Pelicans' comeback win vs. Celtics | NBA on ESPN, ESPN, on February 22, 2021 at 2:15 am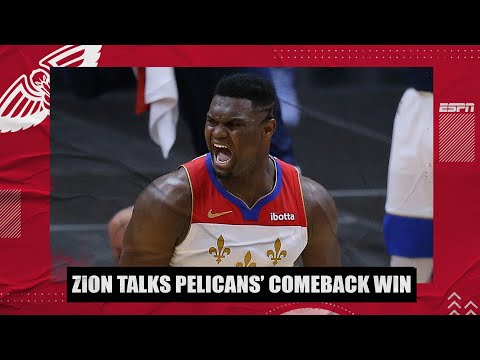 , Read More, , ESPN, Zion Williamson speaks with reporters after the New Orleans Pelicans' comeback win over the Boston Celtics.
0:00 Zion discusses what the win means for the team.
1:44 Zion says it means a lot to be able to play as much as he did in the fourth quarter and overtime.
3:10 Zion breaks down the play in overtime where he set up Brandon Ingram for a crucial 3-pointer.
#NBA #Pelicans #Zion
✔️Subscribe to ESPN+ http://espnplus.com/youtube
✔️ Get the ESPN App: http://www.espn.com/espn/apps/espn
✔️Subscribe to ESPN on YouTube: http://es.pn/SUBSCRIBEtoYOUTUBE
✔️ Subscribe to NBA on ESPN on YouTube: http://bit.ly/SUBSCRIBEtoNBAonESPN
✔️ Watch ESPN on YouTube TV: http://es.pn/YouTubeTV
ESPN on Social Media:
► Follow on Twitter: http://www.twitter.com/espn
► Like on Facebook: http://www.facebook.com/espn
► Follow on Instagram: http://www.instagram.com/espn
Visit ESPN on YouTube to get up-to-the-minute sports news coverage, scores, highlights and commentary for NFL, NHL, MLB, NBA, College Football, NCAA Basketball, soccer and more.
More on ESPN.com: https://www.espn.com